Keeping things in a paper agenda can be a convenient way to keep track of all your tasks and assignments, but it can be rough getting a good idea of big events coming up and managing your time as days don't always go as you had planned in ink.
As someone who found it hard to find the time to rummage through my backpack and take out my agenda between classes or recap on what I'd accomplished as days went by, I wanted a platform that would allow me to access my schedule, be it from my phone or my desktop. I'll be going through my system of apps for planning, as well as sharing some by my friends. By task management, I'll be talking about keeping track of assignments and plans to be completed in an efficient manner as one might in agenda. For apps to help you stay focused, check out my previous article.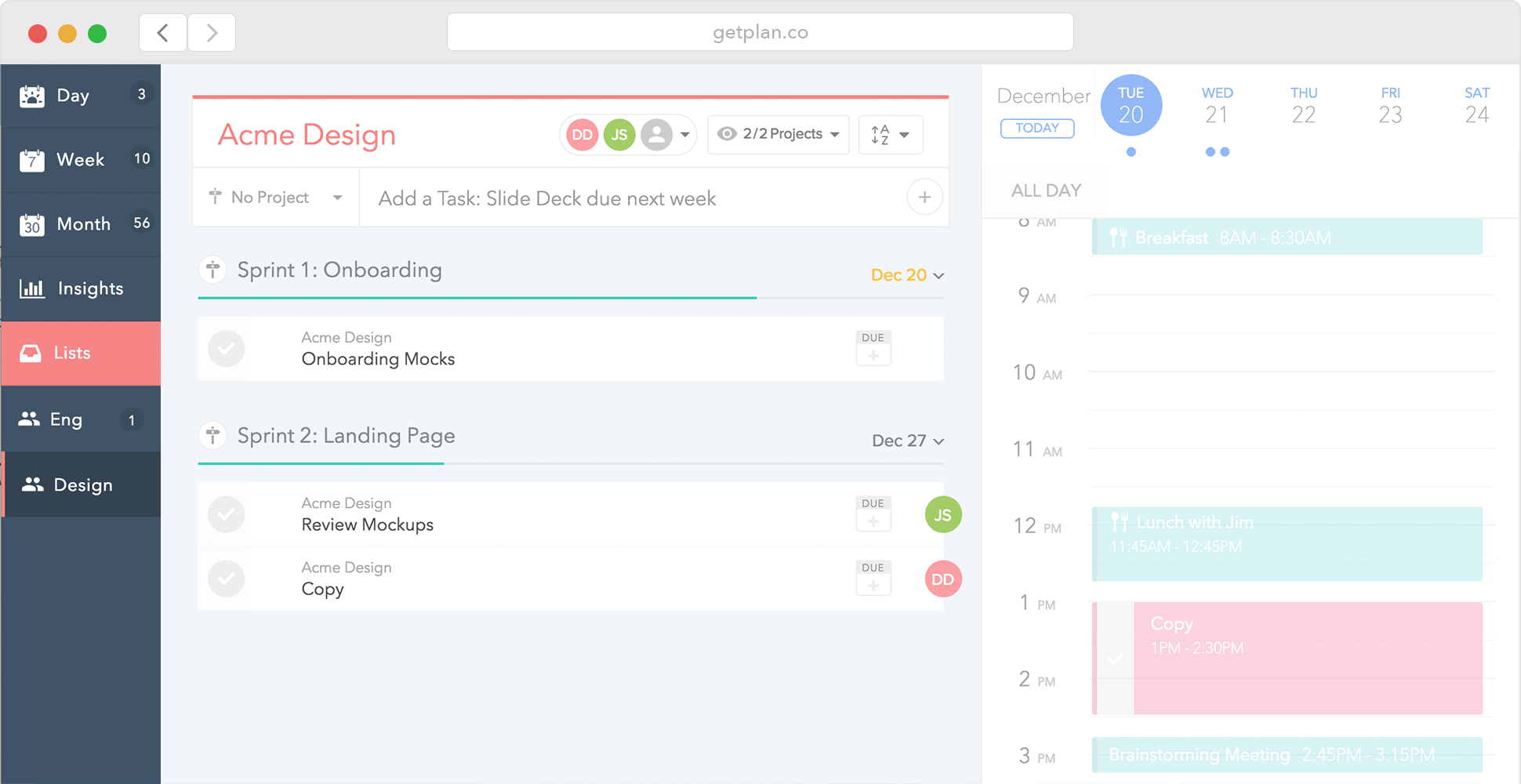 Plan is a free planning service available on the desktop browser or as an iOS app. I chose to use Plan because of its convenient integration with Google Calendar with multiple accounts. When I say integrating my "calendar" with Google, I should clarify that I have calendars for personal use, school assignments, school events, work assignments, college plans, holidays, friend's birthdays, and even my friend's personal calendar. Separating these calendars help me keep track on what kind of things I've been spending time on.
What makes Plan unique to me is that you can take a wide array of personalized To-Do Lists and drag and drop them into your daily schedule ask tasks you can check off during your day. Plan makes it easy to see where you have free time, go back and see what still needs to be completed, and create projects to create seamless task management for future assignments. The option to easily break down tasks into smaller one makes approaching assignments seem more feasible and allows you to target your priorities. Because I work in a very minimalist and work oriented manner, Plan is exactly what I'm looking for in a planner. 
Click to see some of my week spreads!
While I usually work looking at a daily planner and a four day schedule, there are many other formats that Plan can be viewed so that you can get the experience you need. More features like integrations with GitHub and Google Drive as well as productivity analytics referred to as "insights" emphasize the work usage purpose. You can take a look at all the features (plus with helpful gifs to see how they work) by checking out their comprehensive and concise help guide. Paid features can be unlocked if you want to go a little more ham on your planning or use it for business teams, though there hasn't been a single time where I've been caught up in the need.
I've been using Plan throughout high school for about four years now. As a word of caution, it can be overwhelming to people who aren't sure how to utilize it, many of the task management planners are still new start ups that might have their own bugs and kinks. Plan is constantly improving. Personally, I haven't found any of these issues during my usage of Plan to be particularly inconvenient, but the development team is very responsive to feedback.
I have tried most of the other apps I'll continue to cover, but I would definitely consider looking at them all to see what works best for you.
Edo Agenda, from my perspective, is a different take on the features that are offered by Plan. I found that Plan suited me my needs more, though there are many features that are shared by Plan and Edo, such as task that are draggable and integrations with Google calendar. The focus of the UI looks more like a To-Do list than a schedule like Plan does, not giving you the same kind of calendar planning options that Plan does, but still allowing you to see what you need. For those who like a more customization experience as they might have in a paper agenda, Edo Agenda is good for that personalized use. Journaling functions are much more accessible for integrating your planning with your lifestyle.
Trello is a beautifully designed collaborative task management service that works on every platform. I currently use this my job as a marketing intern for delegating tasks in the marketing team and web development process. Though it doesn't have a calendar display, Trello is optimized for planning and project management. From boards, to cards, you can easily assign dates and micro tasks. This "Kanban" view, something you can find as an option in other platforms like Plan, has ultimately become the specialty of Trello. Its integrations are also much more broad than most services for those who need to be able to access what they need from anywhere.
Lanes is a web app you can set as a new tab page and an Android app. It has been four years since I've used Lanes. At first I considered it an alternative to a more in-depth experience than Momentum, but when they first rolled out the paid options, I was locked out from much of the experience I needed Lanes for.
As mentioned in my previous article, Lanes features a Pomodoro timer to motivate you to finish your tasks in a timely manner. There is also a journal and weekly planner integrated with your to-do lists and productivity analytics. What Lanes now looks like is nothing like the Lanes I once used, much more refined their service appears to be more dependable than it once was, though I can't say for sure that they might measure up as well as others. I still think for what's available right now, Lanes has a lot to offer.

WeDo is a simple multiplatform task management app recommended to me by a friend. Optimize to be friendly for poor needy students, WeDo integrates with Wunderlist (something I consider the Pinterest of task management) and your syllabus. The clean and fun Snapchat-esque UI makes it friendly for new users to work with something they're familiar with. We-Do is oriented to also emphasize building habits and improving behaviors. WeDo is also currently looking for college ambassadors interested helping spread the word about their services!
Interested in more apps to keep you building day to day habits instead of scheduling every part of your life? Stay tuned for the next installment of Paperless Productivity!